You can use the top bar to display a newsletter or CTA so that your visitors can subscribe or take an action.
Go to Appearance > Customize > General Settings > Notification Bar Settings
Enable the blue button for the Enable Notification Bar
If you want to add a CTA button then select the Button Link tab
Enter text in the Notification Text field
Enter the label for the notification button in the Notification Button Label field
Enter the link of the button in the Notification Button Link field
Enable/ Disable Enable to open in new window option
Click on Publish.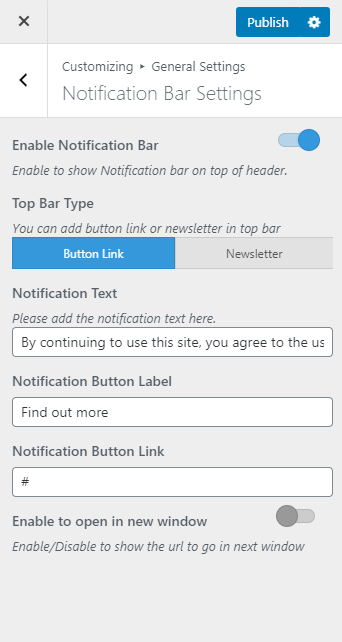 If you want to display a Newsletter then select the Newsletter tab
Enter the short code of the Newsletter in the Header Newsletter Short code field
Click on Publish.
Updated on