Login to your WordPress Admin Panel
Go to Appearance > Customize > General Settings > Posts (Blog) & Pages Settings
Enable Hide Prefix in Archive Page to hide prefix in an archive page.
Enable Blog Excerpt if you want to display the excerpt of the posts. If enabled, select the number of words for the blog excerpt and read more label.
Enable Hide Author to hide author section on an individual post page.
Enable Show Related Posts to display related posts below the blog post.
Enter the title for related posts.
Select Related Post Taxonomy to display in the related post.
Enable show comments to display comments on the posts.
Enable Toggle Comment Section to show the comment section right below the post content. You have to save the changes and refresh the page to see the changes.
Enable Hide Category to hide the category name on blog posts.
Enable Hide Posted Date if you don't want to show the posted date on blog posts.
Enable Show Featured Image to show featured image in a post detail (single page).
Click Publish.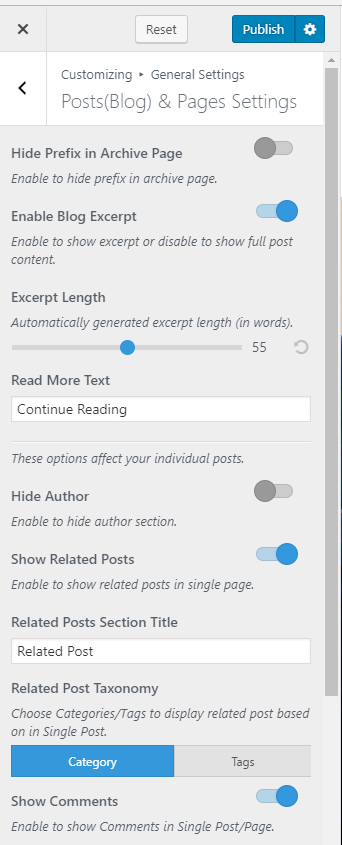 Updated on